Beauty & Self
Books & Music
Career
Computers
Education
Family
Food & Wine
Health & Fitness
Hobbies & Crafts
Home & Garden
Money
News & Politics
Relationships
Religion & Spirituality
Sports
Travel & Culture
TV & Movies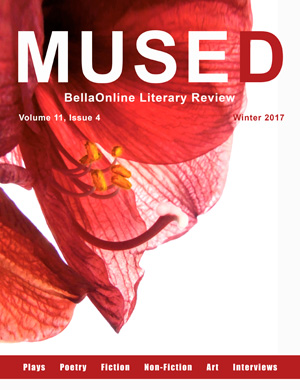 We all travel on this blue-green ball around our very own star each year, sliding a little closer, sliding a bit further away. The balance is critical. Too much closer and we'd roast. Too much further away and we'd freeze.

We should be aware of just how blessed we are that our Earth is "just right" - and do what we can to keep our world healthy. It's the only one we have.

Enjoy the Mused Winter Solstice 2017 Issue



Dharma Mittra
Yoga - Korie Beth Brown, Editor

Chances are that Mittra's famous artwork is hung prominently at your local yoga studio, but this is not his only contribution to the community.




Five Easy Ways to Lower Your Blood Pressure
Nutrition - Moss Greene, Editor

Did you know that 1 out of 3 adults has either hypertension or high blood pressure? And, it is believed that another one-third has pre-hypertension or higher than normal blood pressure numbers. Learn how to turn those numbers around and lower blood pressure naturally.




Cowichan Sweaters
Knitting - Korie Beth Brown, Ph.D., Editor

Thick, warm, and pleasantly woolly, the Cowichan sweater was originally designed by members of this Coast Salish tribe. Enjoy this summary of the design's origins.




Illusion in Art - Dreams + Trompe l'Oeil
Art Appreciation - Camille Gizzarelli, Editor

Sigmund Freud said the unconscious is represented in dreams. The Surrealists pioneered this maverick movement which led to trompe l'oeil in fine art and street art. I'll discuss their influences.




Pressure Cooker Spicy Black-Eyed Peas Recipe
Quick Cooking - Karen Hancock, Editor

Got 30 Minutes. These yummy cold-weather Black-Eyed Peas can be made quickly and are warming and good. Make sure you serve them with cornbread for a southern comfort-food experience.




Caring for Ethnic Skin With Essential Oils
Ethnic Beauty - Juliette Samuel, Editor

Essential oils can bring great results when used in caring for ethnic skin. Here are a few to consider when you begin your journey to great looking skin.


| Google+ |
E D I T O R R E C O M M E N D E D
Simple Delicious Italian Recipes


Simple Delicious Italian Recipes. Authentic Italian recipes easy to follow and simple to prepare, written by Cinzia Aversa, Italian Food Editor at BellaOnline.com. A perfect gift idea for any Italian food lover.
Harvey Penick´s Little Red Book


This isn´t just another one of those instruction books written by a local golf pro. Penick is easily the most insightful instructor the game has seen. Little Red Book is a huge dose of reality about the golf and how to improve your game.
Bird by Bird by Anne Lamott


A funny, unpretentious, sympathetic look at the writing life. The section on allowing yourself to write a crappy rough draft (so you can get it done in the first place) is worth the price of the book alone.